One directory theme that could match any business model
Let your website standout. Brikk will adapt to your business. Suitable for any listing type: bookings, events, restaurants, business, classified ads, jobs and more ⭐
Manage your listing types with ease
Get full control over your website and listings. Brikk offers various customization tools that are combined with stunning and intuitive design.
Main aspects:
Create multiple listing types
Custom fields
Custom taxonomies
Build four own search forms and filters
Compose your single listing page using simple modules
Multiple layouts for explore results and archive pages
Monetize your business
Action types
Review with custom criteria and media uploads
Customize the frontend submission steps and fields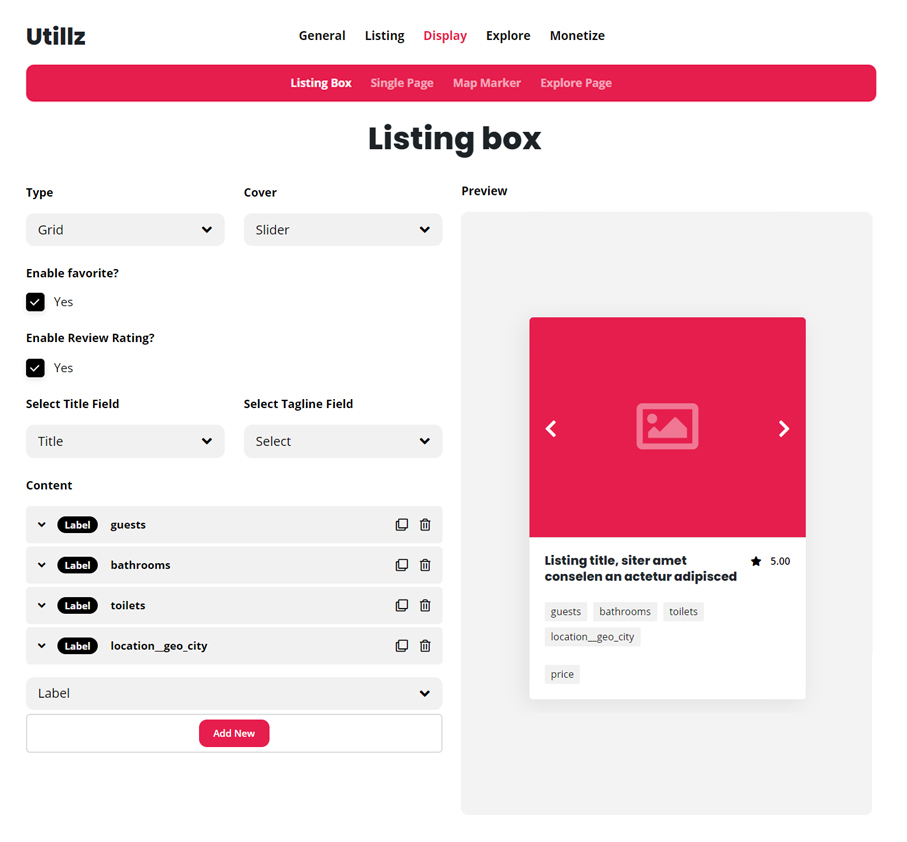 Public profiles & account personalization
All you need as a user in order to manage your listings, payouts, entries and more, is located in the user dashboard.
Brikk also offers a public profile, where you can browse the available listings of each user.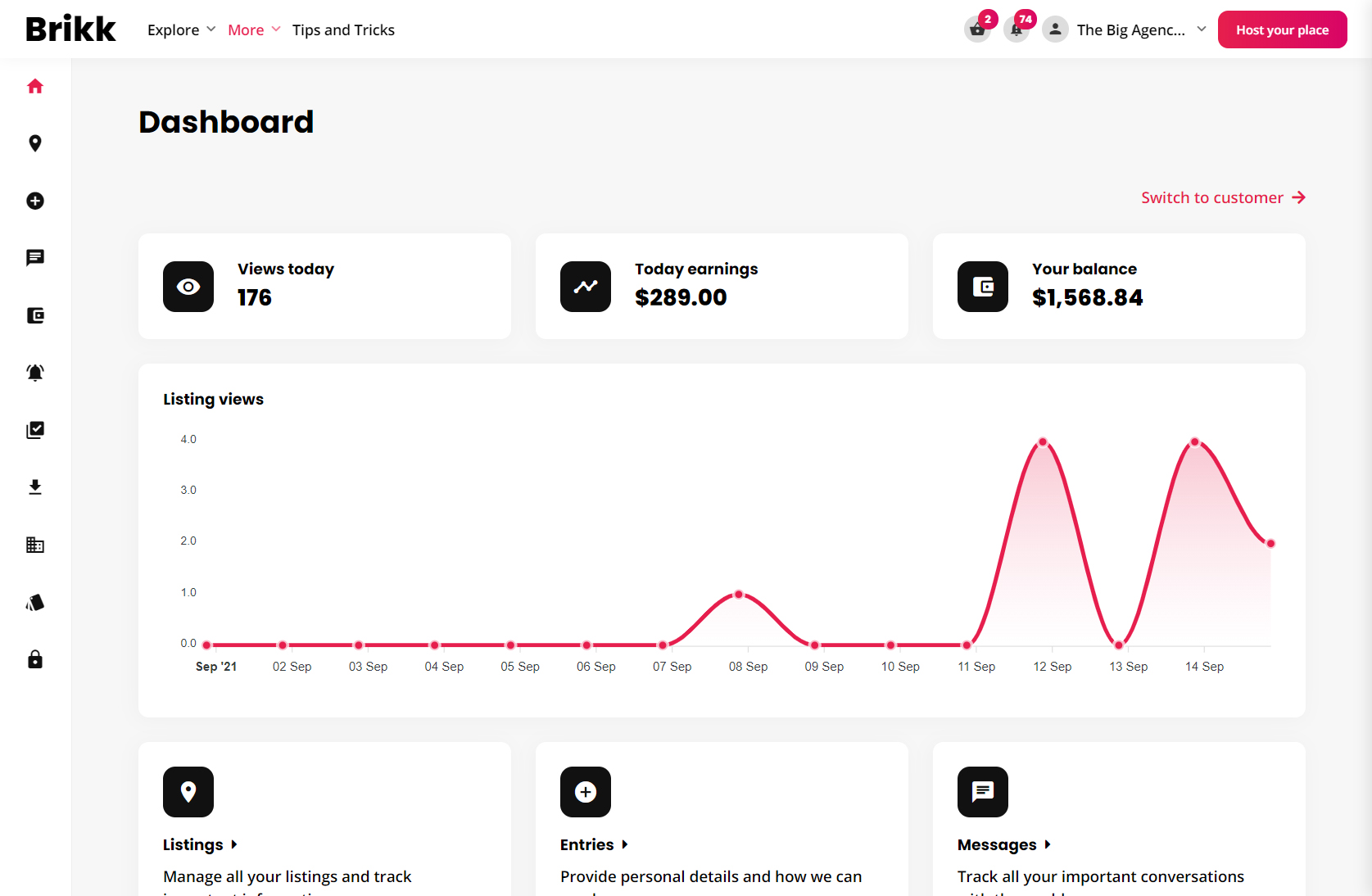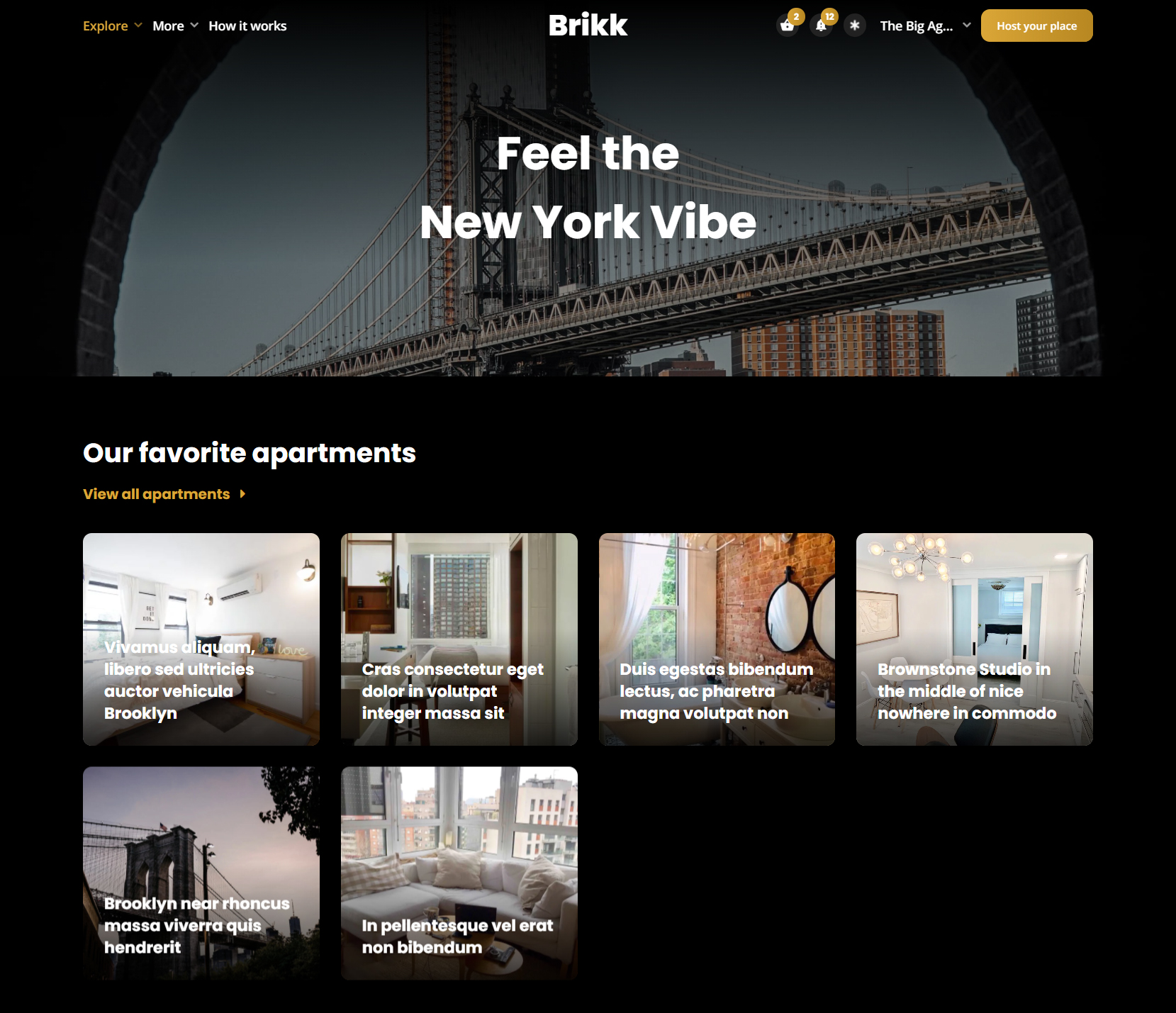 Page builder compatibility
For advanced page content, we are using the amazing Elementor page builder. You can achieve any layouts using this tool.
Elementor is a leading website building platform for WordPress based websites. It offers an amazing front-end drag & drop interface that you can use to construct your website in real time.
Brikk is a modern and clean WordPress theme with stunning design and user experience for any booking and reservations platforms. It could also match any other listing website like events, classified ads, rentals, cars, applications and more.
This theme is using WooCommerce, which is the leading eCommerce platform for WordPress.
Translate into any language with ease.
Get the best possible ranking for your new project, we have you covered.
One of our main goals is to keep our framework clean and fast, page speed is always first priority.
Make money from your business using multiple methods, learn more.
We offer different action types for reservations and bookings, like daily, hourly reservations and appointments.
Customize your search forms
Use the drag and drop builder to customize your search forms and results.
You can easily manage the important triggers is your project using in site notifications, emails or webhooks, learn more.
Customers and hosts can send messages using a simple chat like system.
Use IcoMoon App to generate your own font and integrate it with Brikk, learn more. 
We love creating code with high quality, good documentation and coverage.
Developers, if you are willing to extend our templates, there is an easy way to do that.